[:de]
Ich liebe Norwegen! Dieses Land ist einfach unglaublich schön mit seiner wilden Natur, den majestätischen Fjorden und den tiefblauen Seen. Es gibt so viele wunderschöne Orte in diesem Land, die alle für sich einzigartig und sehenswert sind. Doch obwohl mich viele Landschaften, Städte und Dörfer in Norwegen beeindruckt haben, so gibt es einen Ort, der mir vom ersten Tag an den Atem geraubt hat: Die Lofoten. 
Die Lofoten sind eine Inselgruppe vor der Küste Norwegens und liegen 100 bis 300 Kilometer nördlich des Polarkreises im Atlantischen Ozean. Sie sind vom Festland durch einen Fjord getrennt und damit komplett von Wasser umgeben. Die wichtigsten Inseln sind durch Brücken und Tunnel miteinander verbunden, wodurch man bequem von einer zur anderen Insel fahren kann. Der beste Weg die Lofoten zu erkunden, ist definitiv mit dem Fahrrad oder für die bequemere Variante mit dem Auto. Mit beiden Verkehrsmitteln ist man unabhängig und kann die atemberaubende Landschaft ganz in Ruhe genießen. Gerade auf den Lofoten würde ich von Touribussen abraten, die Stille und Ruhe machen die Natur und Landschaft erst aus, welche durch Touristenmassen nur zerstört werden. Ich selbst war im Sommer mit einem Kreuzfahrtschiff auf den Lofoten, aber anstatt an einer der organisierten Touren teilzunehmen, habe ich mir ein Auto gemietet, was wirklich die beste Entscheidung war. Anbieter gibt es je nach Startpunkt verschiedene, so zum Beispiel Europcar oder Avis. 
Ich bin von Gravdal gestartet, dort legen die meisten Kreuzfahrtschiffe an. Direkt am Anleger hat mich jemand von der Firma Avis begrüßt und mir dann direkt das Auto übergeben. Alles hat super geklappt und die Übergabe hat nur wenige Minuten gedauert. Und dann ging es auch schon los zu einer der wohl schönsten Rundfahrten, die ich jemals gemacht habe. Die erste Etappe führte mich auf der Straße E10 von Gravdal ins Fischerdörfchen A. Das eigentliche Highlight ist jedoch der Weg. Ich kam aus dem Staunen gar nicht mehr heraus.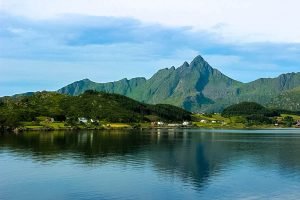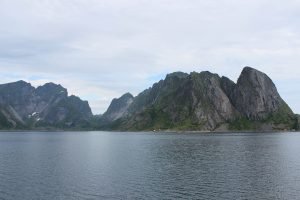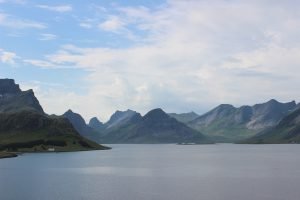 Ein besonders schönes Fleckchen ist dieser Strand hier, der auf dem Weg nach A liegt: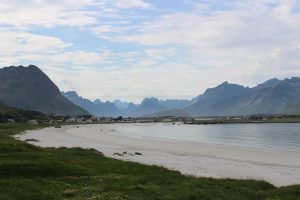 Der Strand war menschenleer als ich dort ankam und damit der perfekte Ort für einen Spaziergang. Das Wasser war glasklar, der Strand puderweich und die Berge im Hintergrund unglaublich beeindruckend. Eine perfekte Kulisse, von der man gar nicht mehr weg wollte. Nach einem tollen Spaziergang bin ich weitergefahren und nach insgesamt 64 Kilometern habe ich dann das Fischerdorf A erreicht. 
Dieses ist sehr klein, aber auch total süß. Es hat einen besonderen Charme und wenn es ein typisch norwegisches Dörfchen gibt, dann ist es das. Es gibt endlose Pfähler, auf denen Stockfisch trocknet, spitze, hohe Berge und die typisch roten Fischerhäuschen. Ein wahres Bilderbuchmotiv: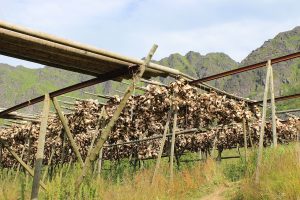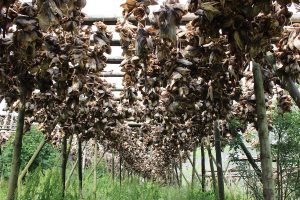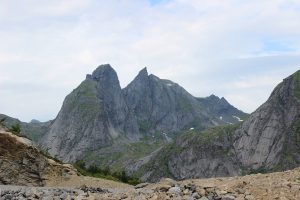 Ein Highlight, das Du auf keinen Fall verpassen darfst, wenn Du in A bist, ist die kleine Bäckerei direkt im Ortskern. Man findet sie ganz leicht, man muss einfach nur dem leckeren Duft folgen. In der kleinen Backstube gibt es selbstgemachte und himmlisch leckere Zimtschnecken. Sie sind einfach der Wahnsinn!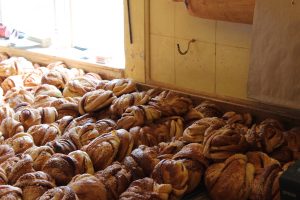 Ich habe ein paar gekauft und bin dann wieder ein Stückchen Richtung Gravdal zurück gefahren. Nur ein paar Minuten von A entfernt, gibt es eine Picknickbank mit atemberaubender Kulisse. Gibt es einen besseren Platz für eine Pause?!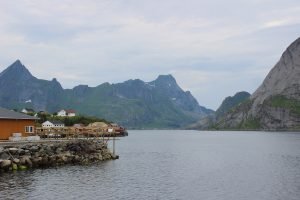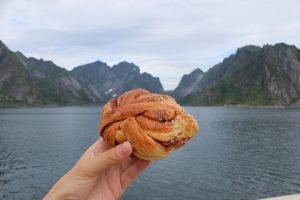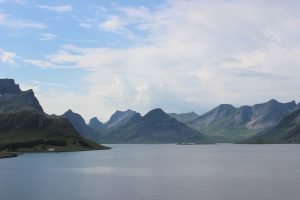 Gut gestärkt bin ich wieder zurück nach Gravdal gefahren. Auf halbem Weg gibt es eine Einbiegung nach Nusfjord, einem meiner Lieblingsorte auf den Lofoten. Der kleine Abstecher lohnt sich also auf jeden Fall. Schaut mal: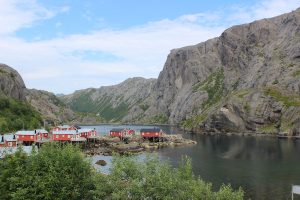 Ein absolutes Paradies! Leider hatte ich dieses Mal nur einen Tag Zeit, aber ich möchte hier her auf jeden Fall nochmal kommen und dann für ein paar Wochen bleiben. Es soll dort nämlich wunderschöne Wanderwege geben und ich kann mir nur vorstellen, wie faszinierend diese sein müssen. Beim nächsten Mal werde ich sie auskundschaften 🙂 
Von Nusfjord ging es dann zurück nach Gravdal, von wo aus ich mich auf den Weg nach Henningsvaer gemacht habe. Es gibt zwei Straßen, die dort hinführen. Am besten Du nimmst die Küstenstraße 815 hin und die Inlandsstraße E10 zurück. Beide Straßen sind wirklich toll und wahnsinnig beeindruckend. Ich liebe diese zerklüftete Berg- und Fjordlandschaft einfach. Man kann sich richtig gut vorstellen, wie hier die Sagen und Legenden über Trolle und Riesen entstanden sind. Die Landschaft passt einfach perfekt zu diesen Erzählungen.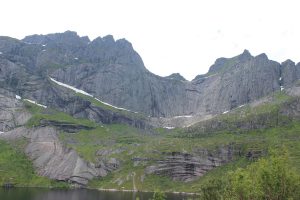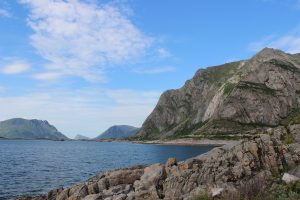 Henningsvaer selbst ist ein kleines Fischerdörfchen, in dem man nicht allzu viel machen kann, allerdings ist der Weg dorthin das eigentliche Ziel. Ich habe immer wieder Pausen gemacht, um die Landschaft zu bewundern, Fotos zu schießen und einfach zu genießen, dieses wunderbare Fleckchen Erde gefunden zu haben.
Der Tag auf den Lofoten war unglaublich schön, ich habe trotz der begrenzten Zeit eine Menge gesehen und ich bin mir sicher, dass ich hier her noch einmal kommen werde. Dann miete ich mir so ein kleines, rotes Häuschen mitten im Fjord und erkunde von dort aus die Inseln 🙂
Warst Du schon mal auf den Lofoten oder in Norwegen? Was ist Dein Highlight? Schreib es mir in die Kommentare 🙂
Anne
[:en]
I love Norway! This country is just mind-blowing with its wild nature, majestic fjords and deep blue lakes. There are countless gorgeous places in Norway which are all unique and worth a visit. Although I was amazed by many sceneries, cities and villages in Norway, there is this one place which took my breath away from the very first day: the Lofoten.  
The Lofoten are a group of islands off the coast of Norway which are situated 100 to 300 kilometers north of the polar circle in the middle of the Atlantic. They are separated from the main land by a fjord which means they're completely surrounded by water. The most important islands are connected by bridges and tunnels which makes it easy to travel from one to another island. The best way to see the Lofoten is taking a bike or – if you want it more comfortable – a car. Both vehicles are flexible and give you the chance to explore the landscape without rushing through. Especially if you visit the Lofoten, I would not recommend any tour busses as the landscape is beautiful because of its wilderness and peacefulness. Tourist busses with heaps of people just destroy this special atmosphere. I visited the Lofoten within a cruise ship tour but instead of doing one of the organised tours, I decided to rent a car. It depends on your starting point, but there are quite a few car rentals on the Lofoten, e.g. Europcar or Avis.  
I started from Gravdal where most cruise ships dock. An employee from the company Avis greeted me and gave me the keys of the car. He was really friendly and the whole handover process took only a couple of minutes. Well, and then I got off to one of the greatest round trips I've done so far.
The first stage took me on road E10 from Gravdal to the fishing village called A. The actual highlight is the way itself though. I was so flashed by the incredible scenery that I just couldn't believe it's real. Have a look: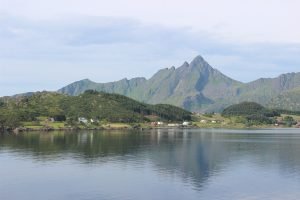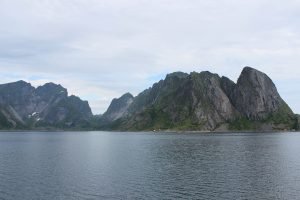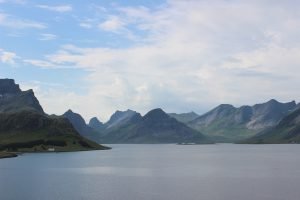 A particular gorgeous place is this beach here: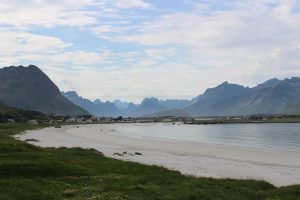 The beach was deserted as I arrived there and just so beautiful. It was the perfect spot for a relaxed stroll. The water was crystal clear, the sand incredibly soft and the mountains in the background insanely beautiful. It's a perfect backdrop where you could stay for ever. After a great stroll, I continued my way and after a total of 64 kilometers I arrived to the fishing village A. 
This village is really small but too cute. There are endless poles with stockfish, sharp mountains and red huts which are typical for Norway. It's the greatest motive: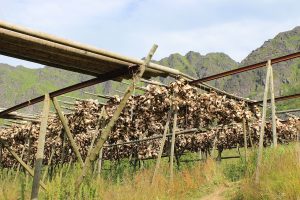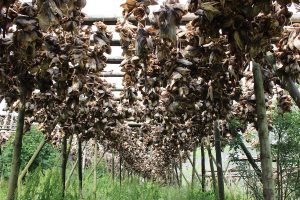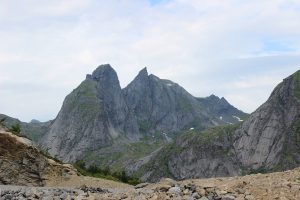 A highlight which you shouldn't miss when in A is the small bakery right in the center. It's easy to find as you just have to follow the delicious smell. The bakery offers hand-made cinnamon rolls and let me tell you: they are heaven on earth. I rarely haven't had something so delicious before! It's too good!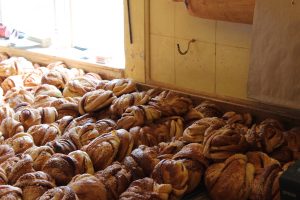 I bought a few and then drove to a cute picnic bench which is just a short drive from A on the road back to Gravdal. On this bench you can enjoy your break with a breathtaking scenery. I couldn't think of a better place for having lunch: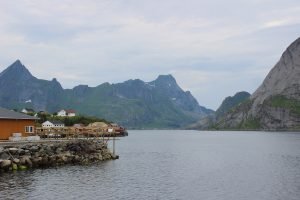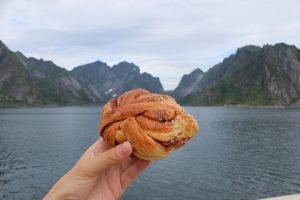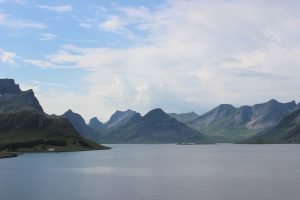 I enjoyed my delicious cinnamon rolls and then went back to Gravdal. On the way there is a sign which leads you to Nusfjord (it's a detour of only a few minutes drive). It's a small village but so incredibly beautiful that you shouldn't miss it. It's one of my favorite places I've been to on the Lofoten. Have a look: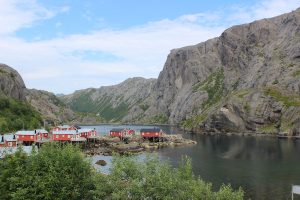 It's paradise! Unfortunately, I only had one day on the Lofoten but I really want to come back one day. Then, I will rent one of those cute red huts 🙂 I've heard that there are countless amazing hiking tracks around Nusfjord and I can only imagine how beautiful they must be. Next time, I really want to spend some weeks there and then explore all of the tracks. Anyway, it was great to be there even though I didn't have too much time. I'll definitely come back 🙂
From Nusfjord I went back to Gravdal and then continued my trip to Henningsvaer. There are two roads which lead to this village. I would recommend to take the coastal road 815 on one way and the inland road E10 on the way back. They're both beautiful and you get a great insight in Lofotens' landscape. I love the rocky and rugged scenery! You can really imagine how all those legends of trolls and giants were formed here. The landscape perfectly fits to those stories.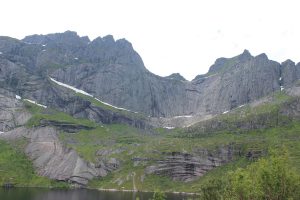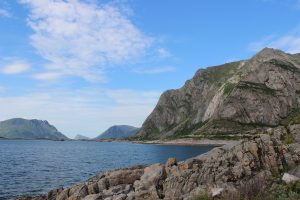 Henningsvaer itself is a really small fishing village where there isn't a lot to do. However, the way to this village is the actual highlight. I did lots of breaks to enjoy the landscape and to take pictures. I'm so happy I've found this piece of heaven. 
My day on the Lofoten was absolutely beautiful and although I only had a couple of hours to explore them, I've seen many great things. I love the Lofoten and I'm sure I'll be back one day. 
Have you ever been to the Lofoten or in Norway? What's your favorite spot? Leave a message in the comment section below 🙂 
Anne
[:]