Cambodia. Many people immediately link this country to the world-famous temple of Angkor Wat. Especially since Lonely Planet have chosen it as the World's Number 1 Attraction, Angkor Wat is an absolute Must Do when visiting Cambodia. Although there are several very interesting temple complexes near Siem Reap, Angkor Wat is definitely the most famous and most visited one. This post talks about my day in Angkor Wat and gives you some tips which might help you when visiting the temple. Have fun! 🙂
Taking a Tuk Tuk to Angkor Wat
The best way to see Angkor Wat and its surrounding temples is to take a Tuk Tuk and a driver. You basically "rent" a Tuk Tuk with a driver for a day or a certain amount of temples. The drivers offer a "Small" and a "Grand" Tour but they are very flexible with individual routes and plans. I had decided to visit Angkor Wat and only a few other smaller temples on my first day and to do the other large temples on a second day. This was definitely the right decision as you really need half a day for Angkor Wat if you want to explore it without rushing through. So my advice is: Less is More. Of course, there is the possibility to visit all or most of the temples on one day but I wouldn't recommend it. You shouldn't underestimate the seize of the temple complexes and especially not the extreme heat. I've never experienced such a heat than in Siem Reap. It's absolutely insane! So you definitely need some breaks. Plus, there is so much to explore and discover you don't want to miss. That's why, I would recommend to visit Angkor's temples in at least two days. 
The price of the Tuk Tuk depends on your negotiating skills. I paid 8$ which included a drive to the sunrise at Angkor Wat. This usually costs extra but as I said it really depends on your negotiation. My driver was very friendly and explained a lot to me about the city of Siem Reap and the temples. He dropped me off at each temple and I had enough time to explore every single one. Then, he picked me up again and we went to the next temple. You pay at the end, but the drivers are also happy if you invite them to a drink or a lunch. It's not a Must Do but they are very happy about it and I think it's a nice gesture. 
By the way, you don't have to book the Tuk Tuk tour in advance, even if you want to start early for the sunrise. There are heaps of drivers waiting in Siem Reap's streets for tourists. I would recommend not to take the first driver who shouts the loudest but to ask someone on your own. It's also very important to agree on the price and the route before leaving town in order to avoid misunderstandings. 
There is an extra entrance fee you have to pay on top of the price for the Tuk Tuk. There are different tickets you can buy, but I would recommend the one which gives you permission to enter the temples for 2 days. As I mentioned before, one day is definitely too short. If you don't have a ticket, don't forget to tell the driver in advance. He will bring you to the ticket office where you can purchase your ticket and then you start your tour from there. All important infos and an overview of all temples can be found HERE. I will also publish a post soon about my tour through all temples beyond Angkor Wat. Stay tuned 🙂 
The sunrise over Angkor Wat
An absolute highlight and a Must Do is the sunrise over Angkor Wat. Although this event attracts heaps of tourists which makes it very crowded, you shouldn't miss it. 
I got up really early to be there before the crowd and to find a good spot to watch the sunrise. If you're planning to get up so early, make sure to bring a torch with you as the paths are not illuminated. The Tuk Tuk driver drops you off at a bridge from where you walk to the large water basins in front of the main entrance. There you will see a big meadow where you should find yourself a nice waiting spot. Well, and then you have to wait. First, I was covered in full darkness but after a while the dawn lit up the temple of Angkor Wat. Although I couldn't see the sun yet, it was pure magic. 
After a while, it was then finally time for the sunrise. I will never forget how the first sunrays climbed over Angkor Wat. It's so beautiful how the basin reflects Angkor War's silhouette. The sun rises directly over Angkor Wat's towers and dips the temple into a beautiful light. Magical!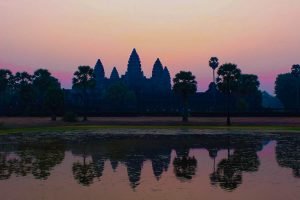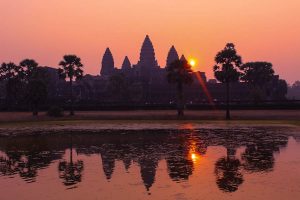 The event is really unique and absolutely worth getting up so early. You shouldn't miss it when being in Siem Reap. 
By the way, there are two big advantages which come along when watching the sunrise that early: Most of the tourists head to a restaurant for breakfast after the sunrise. This means there is almost no one inside Angkor Wat. This is absolutely fantastic! I went inside right after the sunrise and it was almost empty. Two hours later, it was extremely crowded as thousands of tourists walked through the temple. Believe me, having Angkor Wat almost to yourself is amazing and definitely a good reason to get up early. Another advantage is that it's quite cool in the morning. I've never experienced such a heat than in Siem Reap. It's INSANE. You get exhausted so quickly, especially when walking through huge temple complexes. So, it's very nice to visit Angkor Wat in the morning when it's not too hot. 
3. The temple of Angkor Wat
The actual highlight is of course the temple complex of Angkor Wat. The temple is huuuuge and it's easy to get lost. From the basins you take the big path which directly leads you to Angkor Wat's main entrance: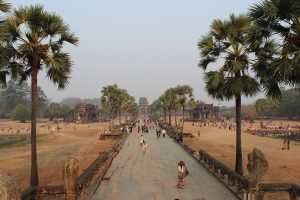 From there you start exploring. There is no circular path which means it's perfect to explore each corner on your own. However, I would recommend to climb the towers first. In the very core of Angkor Wat you find the towers which can be  climbed. As the queue gets very long during the day, it's a good idea to do this first and then to walk around. Even if the queue is big, it's worth to wait as the views from above are amazing!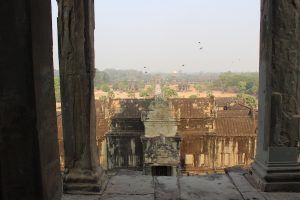 You really can spend hours and days in Angkor Wat, there is so much to explore and discover. Each corner and angle reveals new sights and amazing views. I even met a curious monkey along my way 🙂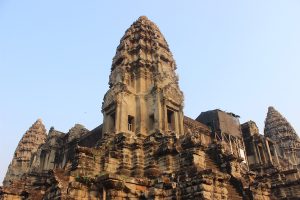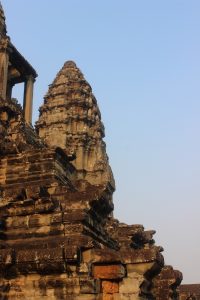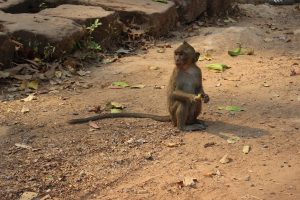 I was really fascinated by all the details in Angkor War's pillars and reliefs. You shouldn't forget Angkor Wat was built around 1100. But sometimes it seems the temple is so much younger as many details are still there.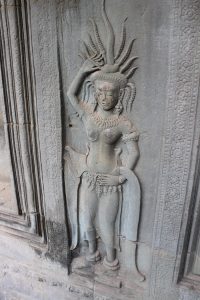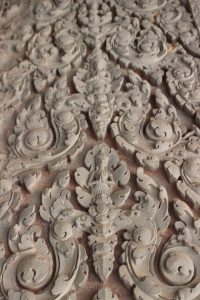 Angkor Wat is really impressive and a very good reason to visit Cambodia. It's not only an amazing temple but a national symbol. You find the silhouette of Angkor Wat on Cambodia's flagg. I was really impressed and I would love to come back one day. It's truly magical! 
Have you ever been to Angkor Wat? What did you like the most? Is there something you were fascinated about? I'm happy to read your comments. 
Anne