Sydney – what an amazing city! Australia has a few great cities, but my all time favorite is Sydney. I just love this city! If I dreamt of Australia as a child, I'd always thought of Sydney (aside from Koalas and Kangaroos). As I finally had the chance to visit Australia, I was absolutely overwhelmed as I spotted the Opera House from the plane for the very first time. I also remember the moment when I finally stood right in front of the world-famous Harbour Bridge and Opera House after a 21-hours flight. Just in that moment I knew: I'm here, I'm finally in Down Under! From the very first day I have fallen in love with this city and although I'm actually not a big city person, it's the only metropolis I could live in. This city has its all – from beautiful beaches, amazing music and art scenes to beautiful cafés. In this blog post I'd like to show you my favorite places in Sydney and I'm sure you'll be as impressed by this city as I am. Here we go:  
The perfect postcard view from Macquarie Point 
Who doesn't know this picture? In front of you the majestic Harbour Bridge and to your left the world-famous Opera House. This postcard motive can be found at Macquarie Point which is close to the Royal Botanical Gardens. Macquarie Point offers the best view of Sydney's two icons and its skyline. It's a great place to relax as there are several benches and green areas. I used to write my travel blog there and I think there couldn't have been a more perfect spot for it. This place is also THE hotspot for all tourists who are celebrating New Year's Eve in Sydney. There will be a post about it very soon on my blog as well. So it's really a great place which you shouldn't miss when in Sydney.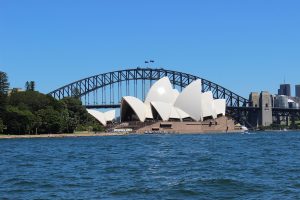 The stunning view from the Harbour Bridge – An adventurous climb 
If you're visiting Sydney there will be one sight you'll always see: the Harbour Bridge. If you have a closer look, you'll notice some small moving spots at the very top of the bridge. I was first wondering about it until I realised that those spots were people. Yes, it's possible to climb this iconic bridge! You can go all the way up to the flagg and I could only imagine how beautiful the view from there must be. Although I'm a little bit afraid of heights, I gathered all my courage and booked the Bridge Climb  for one of the following days. I've read so many amazing reviews and although I was excited, I couldn't wait for it. And let me already tell you: it was definitely the best decision I could have made. It was absolutely fantastic!
I arrived at the Bridge Climb's office where I were greeted very nicely. The first thing I had to do was change clothes and put on a special suit as you're attached to the railings during your climb. Therefore, you need a specific belt which is part of the suit. The groups of the tour are very small which I really liked and every group has its own guide. You also get headsets which makes it easy to understand your guide while climbing the Bridge. I've learned many interesting things about the bridge, the city and the sights you can see from the top. My group was really awesome and as I realized at the end, there even was a famous person in my group…I'll tell you more about it later 😉  
After a short instruction it was finally time to start the climb. I was really excited but it's actually not that scary than I thought it would be as you're attached to the railings. I also liked that we made several breaks to enjoy the stunning views. Our guide also took some photos of us as it is not allowed to take your own camera with you. After 1,002 steps (!) we finally arrived at the top. What a breathtaking view!! It was incredible. You could see the whole city, the harbour, the sea…just everything. I'll never forget this amazing panorama: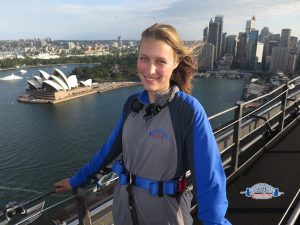 For me, it's definitely one of the most beautiful places that Sydney has to offer. It's an amazing experience you shouldn't miss. 
So and now the funny story: as I told you there was a famous person in my group. Well, I didn't recognized him the first time…he was walking in front of me during the climb and we had some really nice conversations. I was a little bit confused as he started laughing after I'd asked him what his job is. Soooo this person was Sam Smith. He's a famous singer ("Stay with me") and even a Grammy winner! It's definitely a funny story, so keep your eyes open. You never know who you'll meet 😉
A stunning beach in the city – Bondi Beach
Bondi Beach is probably the most famous beach in Sydney. There are busses that regularly run from the city center to this beach. It's a great place to relax although it can be quite crowded as well. However, the water is crystal clear and absolutely beautiful! Take a look: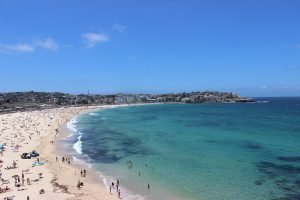 Bondi Beach is a starting point for several hikes and walks which all guarantee amazing views. One of them is described in the next paragraph. 
The coastal walk from Bondi to Coogee 
One of my favorite coastal walks is the one that takes you from Bondi to Coogee (it's also possible to do the walk the other way around). Coogee has a stunning beach which is really beautiful and not as crowded as Bondi Beach. The walk is amazing, you walk along the coast and on the way you can enjoy stunning views. There are also a few beaches along the way which are really nice and perfect for a break. The total length of the walk is 6 kilometers but I would definitely recommend to take some breaks. I really enjoyed swimming and relaxing at the beaches, especially because they weren't crowded. If you want to extend your walk, you can go from Coogee to Maroubra. There is another great beach. All information and maps can be found HERE. 
A stroll through Darling Harbour
Darling Harbour is an amazing quarter with countless cafés, bars und restaurants. Especially at night it has an amazing atmosphere. I loved drinking a cocktail and listening to the live bands while admiring Sydney's skyline.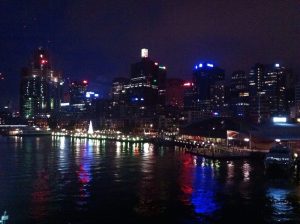 A picnic at the Royal Botanical Gardens 
A true paradise of peace can be found at the Royal Botanical Gardens. They were originally used as a vegetable patch but today you can find beautiful flowers and plants there. There are lots of green areas which is why it's the perfect picnic spot. So just grab a good book and some food and enjoy the peacefulness of the Gardens.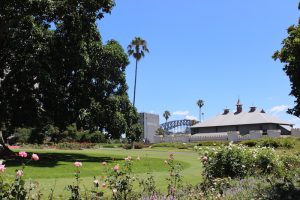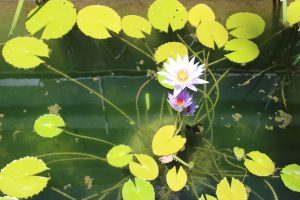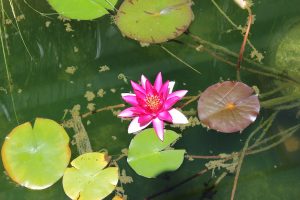 A visit to the jungle – The Blue Mountains
The Blue Mountains are not a direct part of Sydney, but it's so close that it's perfect for a day trip. For me, it has been the first time I'd seen a jungle in real life which is why I really enjoyed this trip. Before I show you what's so great about the Blue Mountains, I'd like to give you a tip: Don't visit this national park during the main tourist hours. Try to be there in the morning (before the busses arrive) or in the late afternoon (when the busses are gone). Believe me, you don't want to be there when all tourists visit this place at the same time. It gets super crowded and it destroys the atmosphere of the jungle. 
The Blue Mountains are a mountain range which is located about 80 kilometers west of Sydney. The region is famous for its eucalyptus leaves (UNESCO World Heritage) and is a perfect destination for hikes. Probably the most popular mountain range is the one of the "Three Sisters" which you can see here: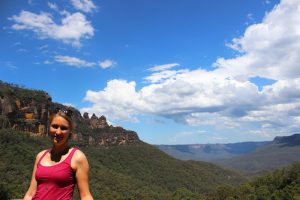 There is a cable car from which you have a breathtaking view over the Three Sisters and the Blue Mountains National Park. It also brings you right to the heart of the park from where you can start different hikes. All information and maps can be found HERE. I was really impressed by the nature of the jungle. It's absolutely beautiful there! So if you're close to Sydney, make sure to visit this Park. It's absolutely worth it and one of the most beautiful places in and around Sydney.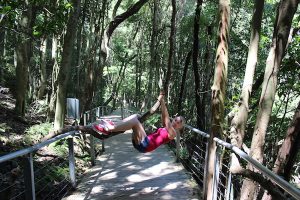 Sydney is a fascinating city with so many beautiful places and sights. I hope I could give you an insight into my favorite spots and hopefully you liked them as much as I do.
Have you ever been to Sydney? What is your favorite spot? Just write your comment in the box below 🙂 
Anne