After almost losing hope, today was finally the day of the days: I spotted a whale!
This morning, I went again to the Whale Watching office in Kaikoura. The first thing I noticed where red words on the monitors. I immediately felt disappointed as I thought it would be another cancellation due to bad weather conditions. Luckily, they only warned passengers of strong currents which could cause sea sickness. But I didn't care about it, I was happy I finally had the chance to see some whales.
A bus took me and other tourists to a jetty and then we left the harbor with a really comfortable vessel. The staff was super friendly and we even had a guide who told us many interesting things about whales and their habitat. From time to time, our guide tried to hear where the whale could be. Sounds strange? Well, there is an interesting way to find out where the whale is. The guide had a huge microphone which he put into the water. This microphone sends out certain frequencies that the whale can hear. The whale then responds to those frequencies and that's how the whale can be located. The guide did this process a few times and then the boat stopped. Waiting. Waiting. The whale was still diving. A whale can be under water for about 2 hours. Luckily, as the water is not too deep around Kaikoura, the whale comes up to the surface every 40 minutes to breath. Waiting. And then there he was. First, you could only see a water fountain from the whale's air whole. Seconds later, you could see its huge black body. How fascinating! As a whale is more than 18 meters long, you can only see a part of the whale's body, but it's so incredibly to watch the whale breathing. After some minutes, the whale dived again into the endless ocean and before he did so, we could see his tail. Amazing!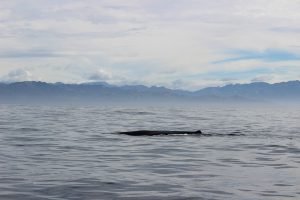 It was a really memorable experience and I'm so glad it finally worked out.
On the way back, we even spotted some dolphins jumping around. A perfect trip.
After an 8-hours drive, I got back to Dunedin. I'm tired now but especially incredibly happy and grateful I had the chance to experience so many wonderful things. New Zealand is really the most amazing country.
Anne