I love Norway! This country is just mind-blowing with its wild nature, majestic fjords and deep blue lakes. There are countless gorgeous places in Norway which are all unique and worth a visit. Although I was amazed by many sceneries, cities and villages in Norway, there is this one place which took my breath away from the very first day: the Lofoten.  
The Lofoten are a group of islands off the coast of Norway which are situated 100 to 300 kilometers north of the polar circle in the middle of the Atlantic. They are separated from the main land by a fjord which means they're completely surrounded by water. The most important islands are connected by bridges and tunnels which makes it easy to travel from one to another island. The best way to see the Lofoten is taking a bike or – if you want it more comfortable – a car. Both vehicles are flexible and give you the chance to explore the landscape without rushing through. Especially if you visit the Lofoten, I would not recommend any tour busses as the landscape is beautiful because of its wilderness and peacefulness. Tourist busses with heaps of people just destroy this special atmosphere. I visited the Lofoten within a cruise ship tour but instead of doing one of the organised tours, I decided to rent a car. It depends on your starting point, but there are quite a few car rentals on the Lofoten, e.g. Europcar or Avis.  
I started from Gravdal where most cruise ships dock. An employee from the company Avis greeted me and gave me the keys of the car. He was really friendly and the whole handover process took only a couple of minutes. Well, and then I got off to one of the greatest round trips I've done so far.
The first stage took me on road E10 from Gravdal to the fishing village called A. The actual highlight is the way itself though. I was so flashed by the incredible scenery that I just couldn't believe it's real. Have a look: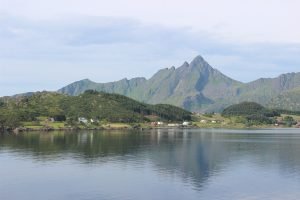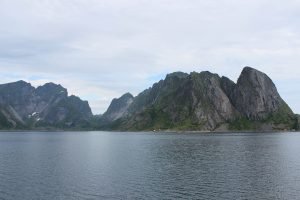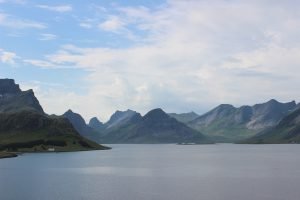 A particular gorgeous place is this beach here: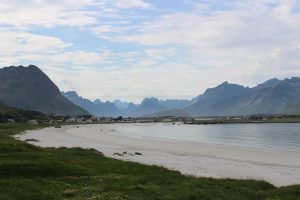 The beach was deserted as I arrived there and just so beautiful. It was the perfect spot for a relaxed stroll. The water was crystal clear, the sand incredibly soft and the mountains in the background insanely beautiful. It's a perfect backdrop where you could stay for ever. After a great stroll, I continued my way and after a total of 64 kilometers I arrived to the fishing village A. 
This village is really small but too cute. There are endless poles with stockfish, sharp mountains and red huts which are typical for Norway. It's the greatest motive: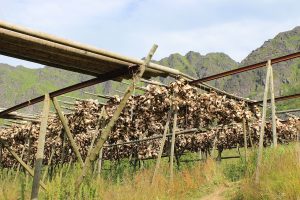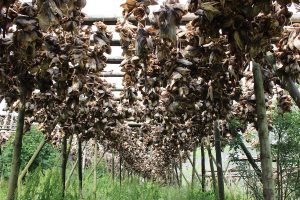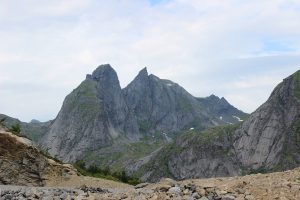 A highlight which you shouldn't miss when in A is the small bakery right in the center. It's easy to find as you just have to follow the delicious smell. The bakery offers hand-made cinnamon rolls and let me tell you: they are heaven on earth. I rarely haven't had something so delicious before! It's too good!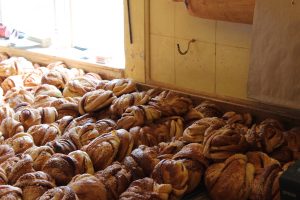 I bought a few and then drove to a cute picnic bench which is just a short drive from A on the road back to Gravdal. On this bench you can enjoy your break with a breathtaking scenery. I couldn't think of a better place for having lunch: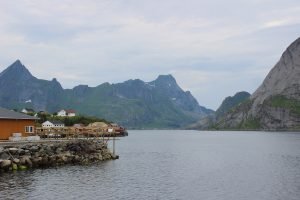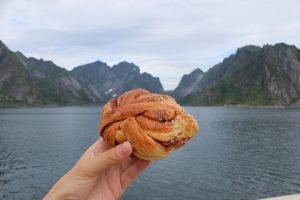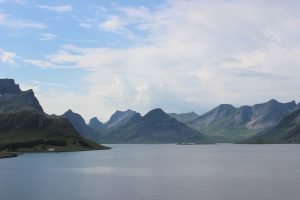 I enjoyed my delicious cinnamon rolls and then went back to Gravdal. On the way there is a sign which leads you to Nusfjord (it's a detour of only a few minutes drive). It's a small village but so incredibly beautiful that you shouldn't miss it. It's one of my favorite places I've been to on the Lofoten. Have a look: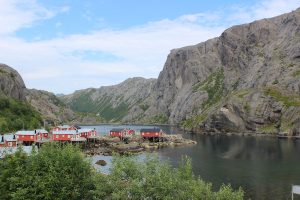 It's paradise! Unfortunately, I only had one day on the Lofoten but I really want to come back one day. Then, I will rent one of those cute red huts 🙂 I've heard that there are countless amazing hiking tracks around Nusfjord and I can only imagine how beautiful they must be. Next time, I really want to spend some weeks there and then explore all of the tracks. Anyway, it was great to be there even though I didn't have too much time. I'll definitely come back 🙂
From Nusfjord I went back to Gravdal and then continued my trip to Henningsvaer. There are two roads which lead to this village. I would recommend to take the coastal road 815 on one way and the inland road E10 on the way back. They're both beautiful and you get a great insight in Lofotens' landscape. I love the rocky and rugged scenery! You can really imagine how all those legends of trolls and giants were formed here. The landscape perfectly fits to those stories.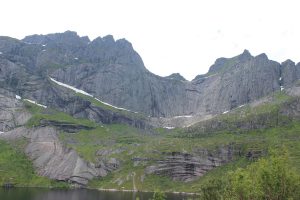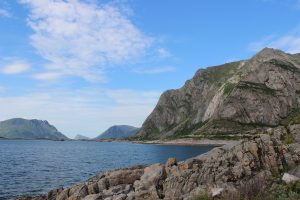 Henningsvaer itself is a really small fishing village where there isn't a lot to do. However, the way to this village is the actual highlight. I did lots of breaks to enjoy the landscape and to take pictures. I'm so happy I've found this piece of heaven. 
My day on the Lofoten was absolutely beautiful and although I only had a couple of hours to explore them, I've seen many great things. I love the Lofoten and I'm sure I'll be back one day. 
Have you ever been to the Lofoten or in Norway? What's your favorite spot? Leave a message in the comment section below 🙂 
Anne