Lao – the land of untouched nature and wilderness. Although tourism constantly increases in several parts in Lao, there are still lots of places in this country where you find pure nature, wilderness, beautiful landscapes and breathtaking views. There is one place which I immediately fell in love with and which became one of my favorite part in Lao: Vang Vieng. I know, there will be many of you who say Vang Vieng is the most touristy place in the whole country and there is no untouched nature but heaps of party backpackers. Well, that's definitely true but it's only a part. Of course, there is this small city center of Vang Vieng which is super crowded, full of backpackers and party people. However, if you leave the center and start to explore the surroundings, you will realize that there is one of the most beautiful landscapes you've ever seen. If you're willing to take a bike or a rented scooter rather than going with the touristy busses or Tuk Tuks, you will find breathtaking sceneries, amazing landscapes, original villages and pure nature. I still remember how amazed I was by all the great sceneries which had left me speechless. Vang Vieng is a gorgeous place which is so much more than partying and tubing. You just have to leave the tourists' tracks and then you will find amazing things!  
As I visited Lao in the middle of dry season, I decided to rent a scooter to explore the surroundings. There were some days when I had no plan and no actual place I wanted to go. I just started driving and on the way I discovered the most amazing places, landscapes, sceneries and views. Vang Vieng has breathtaking Karst Mountains, riverbeds, villages and caves. It's definitely true: "The journey is the reward."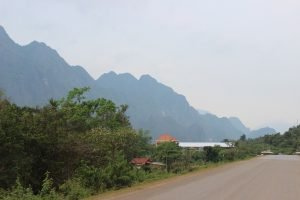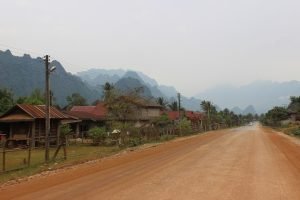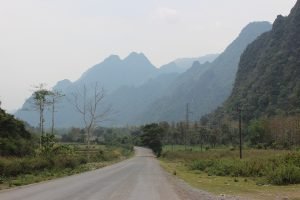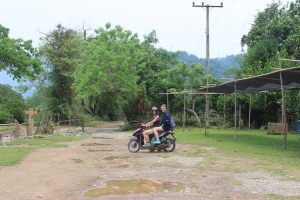 The landscape with all of its Karst Mountains is just unbelievably beautiful! There is so much to see and explore, so make sure to take your time!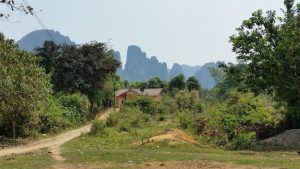 Vang Vieng is famous for its Karst Mountains but also for its amazing caves. There are countless caves which are absolutely stunning. The caves have different levels of difficulty – there are some which can be only visited by an organized tour, other caves require a guide and then there are caves which can be visited on one's one. However, you definitely need a good torch (!) and waterproofed shoes as most caves are rarely lit and quite slippy and wet.  
A particularly splendid cave is called "Tham Pou Kham" which can be visited on one's one. The dripstones are absolutely beautiful and quite diverse. I haven't seen so many different formations before. The cave is pure magic, it's twinkling and sparkling everywhere. I could have stayed there for ages, there are countless corners to explore. It's incredibly fascinating what nature creates! Unfortunately, I don't have lots of photos of this cave as it was just too dark to take good pictures. However, here are two photos which I took right at the beginning. I hope it gives you at least a small idea of how it looks like: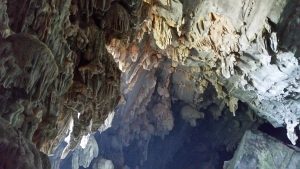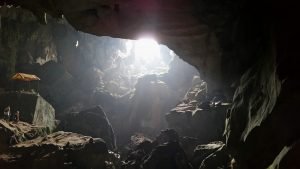 Right at the entrance of the cave, there are the so called "Blue Pools" which are just perfect for a break and a swim after visiting the cave. So don't forget to bring your swimming clothes with you 🙂
Another great cave is called "Tham Bang" which is also known as the elephant cave. It's a very small cave and actually  it's rather a grotto than a cave. However, this cave has a very strong cultural and religious value to the local people. On the first picture you can also see why the cave is called "Elephant Cave": there is a dripstone which exactly looks like an elephant. Funny, isn't it?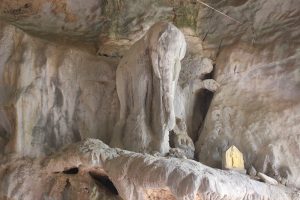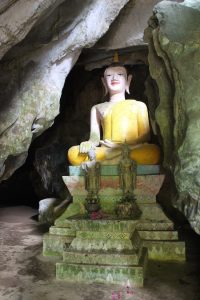 Besides the caves, Vang Vieng is famous for its Tubing. You haven't heard about it? Well, you just take a huge truck tube and then let yourself float down a river. Yes, it sounds cool and believe me, it is so much fun! Although it's probably the most touristy thing you can do in Vang Vieng (I guess even in the whole country), it's definitely a highlight you shouldn't miss. A Tuk Tuk brings you to the starting point where you get your tube and from there you start floating down the river until you reach the town center of Vang Vieng. I've been there in the dry season, so it took about 2-3 hours. In the wet season, it takes much shorter. However, you always have the possibility to stop earlier as there are several Tuk Tuks along the shore area. On the way, there are some bars where you can buy drinks and / or party. There had been countless bars but today you only find three or four as there were some serious accidents with drunk backpackers. However, it's still a nice atmosphere, everyone is super friendly and you get to know people from all around the world. 
The actual highlight is the stunning scenery along the way. The landscape is so incredibly beautiful and absolutely breathtaking!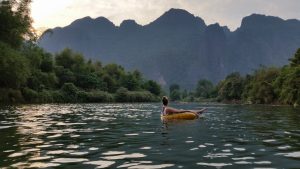 The tubing is definitely worth it and even though it's quite touristy, it's a great thing to do when visiting Vang Vieng. By the way: if you want your deposit (7 Euros which is a lot in Lao) back, you should be back on time. I was 2 minutes (!!) late and I didn't get anything back…
Lao is a really great country and Vang Vieng is one of my favorite places. I will never forget the beauty of Vang Vieng's landscape and all those stunning views. So if you're visiting Lao one day, don't forget to visit Vang Vieng. There is so much to explore and see, you won't regret it 🙂  
Have you ever been to Lao? Do you have some favorite spots? I'm happy to read your comments.
Anne