As I've visited Dubai some years ago and just loved this city, I knew that one day I would also travel to Abu Dhabi. The perfect opportunity came by as I travelled from Germany to South East Asia as I had to change planes in Abu Dhabi. So why not do a stopover? That's what I thought and so I decided to book 2 nights in Abu Dhabi on my way back to Germany. 
The first time I went from the airport to Abu Dhabi I was a little disappointed as it didn't seem as spectacular as Dubai was. There were only a few skyscrapers, no fantastic water fountains and no magical city center which I loved the most in Dubai. However, this first impression turned out to be wrong as Abu Dhabi had something to offer which would blow my mind away. But before I tell you what this was, here are some impressions of Abu Dhabi and a few tips how to get around in this big city: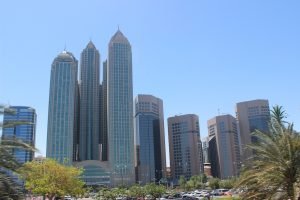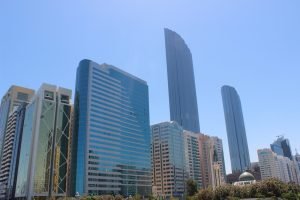 As Abu Dhabi is a huge city, it's definitely not recommendable to visit it by foot. It's much better to take a taxi (which is really really cheap in the United Arab Emirates) or to do a sightseeing tour by bus. I love "hop-on-hop-off" busses as they take you to the most important attractions without losing your flexibility. You can get off at each stop, visit attractions and then get back on the bus. As well, an audio guide tells you some very interesting facts about the city. Especially if you visit such big cities as Abu Dhabi, this kind of bus tour is the best way to explore the city. That's why I booked a 24-hour ticket and started my sightseeing tour. It's amazing how huge Abu Dhabi is and how huge it will become in the future. There are giant construction sites where they build the craziest things. The world's biggest luxury resort, the biggest yacht harbour, a city in the city…it's incredible what this city will offer in the future. As Abu Dhabi seems like a huge construction site now, I can only imagine how different this city will look like in a few years.  
The bus tour took me through the whole city as well as to the famous Ferrari World which I had already spotted from the plane: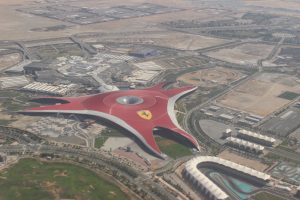 I didn't went inside as I'm not a big fan of roller coasters but I heard that it's a paradise for people who love roller coasters. It must be a huge area as it took quite long to drive around by bus. I also could see some giant roller coasters from the bus…so if you love adrenaline, I think that might be a great place for you 🙂 
Well, as I mentioned, I didn't go inside but continued my bus ride to the world-famous Sheikh Zayed Grand Mosque. This building is so amazing and gigantic that it's hard to find words for it. This mosque is just mind-blowing, I've never seen something like that before in my life. The Sheikh Zayed Grand Mosque is a building of superlatives: it's the biggest mosque in the United Arab Emirates and the eighth largest in the world. There is space for 40,000 creditors and its main dome is the largest in the world. Inside the mosque you find a giant carpet of 5627 square meters which is hand-made and the largest of its kind. The mosque contains of 82 domes, more than 1000 pillars and chandeliers which are made of 24-carat gold. In addition, you can find the world's biggest chandelier above the world's largest carpet inside the mosque. It's crazy, isn't it? Just the numbers are impressive but if you see all of that in reality, it's just mind-blowing.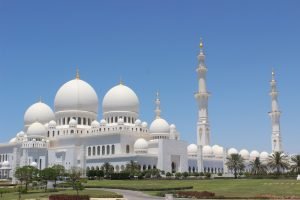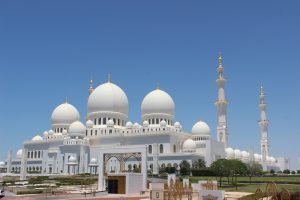 You can already see this giant mosque from quite a distance as the building is extremely huge. As well, itts sparkling marble is so white and clear that you will see it from far away. As the bus surrounded the mosque, I got an idea of how big this mosque is. The photos give an impression but in reality it's so much bigger.  
Before I show you how it looks inside the mosque, it's quite interesting to know that the Sheikh Zayed Mosque is one of the very few (I even think it's the only one) mosques which allow people from all religions to enter the mosque. This was very important to sheik Zayed as he wanted to create a building of hospitality and openness which gives everyone the chance to visit a mosque. However, it's really important to be aware of some rules regarding your outfit. Especially women have to cover their shoulders, legs and hairs. Therefore, you can lend a black Abaya in front of the main entrance. From there, you also enter the mosque and its courtyard. And from there you can't stop marveling as it is so amazing and absolutely mind-blowing: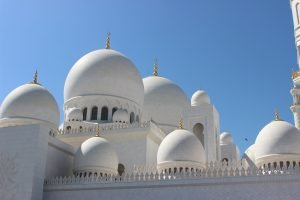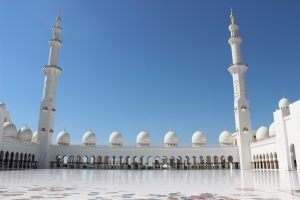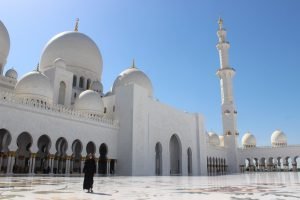 The floor which is made out of marble is incredibly stunning: it seems to be a lake as it reflects the domes and pillars of the mosque! I haven't seen something like that before, it's just insanely beautiful!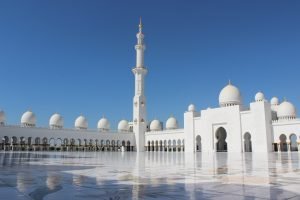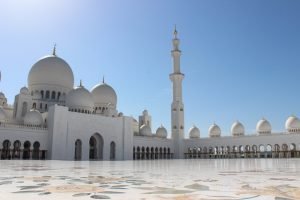 I strolled through the courtyard for ages as I just couldn't believe how huge and beautiful the mosque is. I thought that nothing could top that but as I entered the mosque's inside, I realized that I was wrong. The inner room is just amazing and absolutely overwhelming: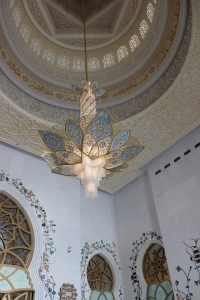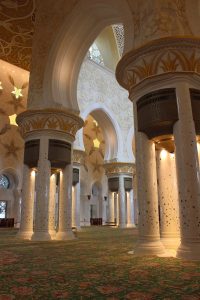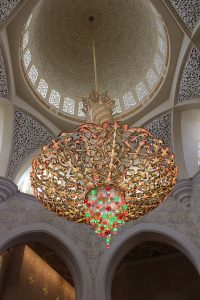 The room is mind-blowing and hard to describe in words. Everything sparkles and the room is full of diamonds, gold, marble and gemstones – it's splendid and made with so much love for the details. Just amazing!! 
I was absolutely impressed and really speechless (which doesn't happen very often 😀 ). The Sheikh Zayed Grand Mosque is pure magic and definitely worth a visit. So if you have the chance to visit the United Arab Emirates – even just for a stopover – don't forget Abu Dhabi. It's an amazing city and especially the mosque is a true and unforgettable highlight!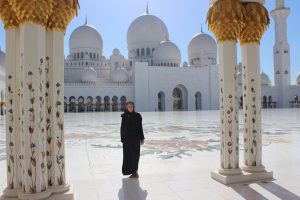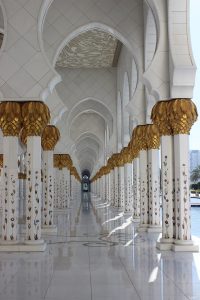 Have you ever been to Abu Dhabi and the Sheikh Zayed Mosque? If yes, did you like it? What was your highlight?
Anne