If there is one town in Southeast Asia that has fascinated me from the very first second, then it's definitely Hoi An in Vietnam. This town is not only UNESCO World Heritage (and twin town of my university city Wernigerode) but also such an amazing place that I could have stayed there for ever.  
Hoi An is located in Central Vietnam and especially famous for its ancient city center which is – as already mentioned – UNESCO World Heritage. However, there are also a few great things to visit beyond the old town, for instance the local market. There you can find delicious fruits, vegetables, snacks as well as souvenirs and textiles: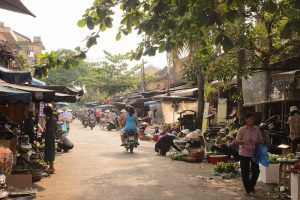 In the ancient city center only pedestrians are allowed which makes the sightseeing quite relaxing and enjoyable. The river "Song Thu Bon" flows through Hoi An and especially at night it's really magical. However, Hoi An also has a lot to offer during day time. The town is absolutely stunning with all its cute alleys, bars and restaurants: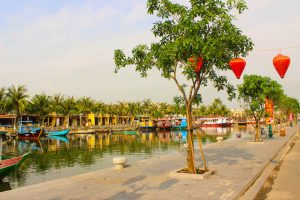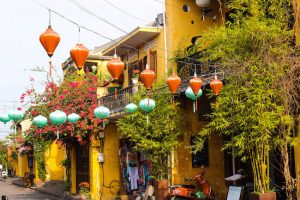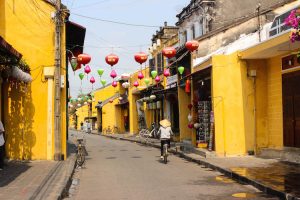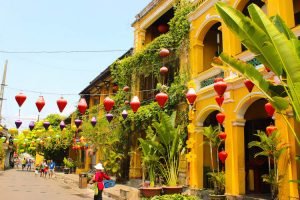 Have you recognized something special in the photos? – Yes, the lampions. Hoi An is world-famous for its very colourful and beautiful lampions. They look great over the day, but as you can imagine they become even more magical at night.
Besides Hoi An's great alleys, you can find beautiful family houses which often can be visited from the inside. They're beautifully decorated and absolutely worth a visit. By the way: for all attractions including the ancient town you need to pay a fee. Tickets can be purchased at all entrances of the ancient town as well as at all sights. 
Besides the impressive family houses there are stunning temples in the ancient center which are also worth a visit. I especially liked this one here (Chuc Thanh Pagoda):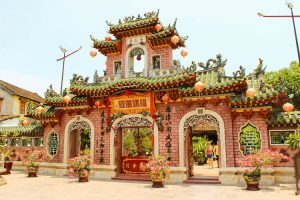 The architecture is simply amazing! 
The actual highlight of every Hoi An visit is a stroll through the ancient city center at night. The atmosphere is so magical that I can't really put it into words. Hoi An really left me speechless with all its sparkling lampions and lights: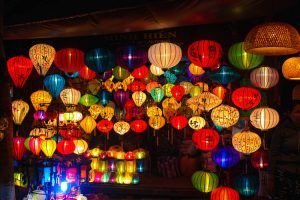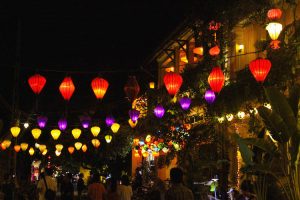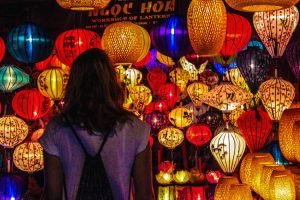 I would have loved to take some lampions home but as I was traveling only with my backpack it wasn't possible. However, just seeing all these amazing lampions made me very happy. 
Another great highlight is the evening of full moon. This evening, people put thousands of candles on the river which then becomes a twinkling sea of lights. It's absolutely breathtaking! So if you have the chance to visit Hoi An during full moon – do it! You won't regret it. 
It's also recommendable to spend a few days in Hoi An. Even if the town center is quite small, there are great beaches only a couple of minutes away from Hoi An as well as heaps of great restaurants, bars and shops to discover. It definitely doesn't get boring 😉 
Personally, I think Hoi An is the most beautiful town in Vietnam – maybe even throughout Southeast Asia. It's a Must See you shouldn't miss when traveling Vietnam and / or Southeast Asia.
Have you ever been to Hoi An? Let me know in the comments section 🙂
Anne