If there is a city in the world that made me feel so very contradicting about it, then it's Bangkok. I've never experienced fascination and culture shock, excitement and alienation, joy and frustration all in one time before. Bangkok is loud, vivid, fast, chaotic, fascinating, dirty, colourful, exciting…there are thousands of words that characterize Bangkok but still there aren't enough to describe the actual feeling of being in Bangkok.

The first thing I remember when I'd arrived in Bangkok was the insane heat. I've been to quite a few hot places in the world, but this climate really blew me away. It was super hot and extremely humid. Even without any activity, you got soaked in no time. That's why here's my first tip when traveling to Bangkok: Make sure to always have enough water with you and try to start your sightseeing activities really early in the morning.

Another unforgettable experience happened to me after leaving the airport: I took the metro first to the city center and then went by bus to my hostel. This bus ride was probably the most adventurous ride I've ever experienced on my journeys so far. The bus door was open during the ride and the bus only stopped some seconds on each stopp. If you weren't fast enough in jumping in, then the bus just got off without you. The bus was insanely crowded. I really have no idea how all of those people could fit into that thiny bus. Some people were even standing so close to the open door, that I feared someone would fall out of the bus any minute. The traffic and the way the bus driver drove the bus were just crazy. There were thousands of scooters, buses, cars, cyclists and driving traders on the streets. It seemed as there were no rules, I've just heard the driver honking, shouting, complaining, and again honking. It felt like a miracle that nobody got hurt and that I really reached my hostel all safe and sound.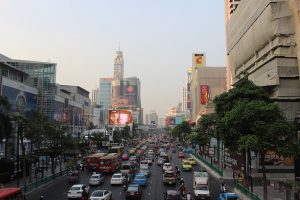 I'll never ever forget this first day in Bangkok. I have to admit, I did have a culture shock but at the same time, I was so fascinated by this city that I couldn't wait to explore more of it. Here are my personal Must Do's when in Bangkok:

1. Try new culinary highlights
Yes, I admit, even I was a bit suspicious of Thai food at the beginning, especially food from all the street markets. However, traveling also means trying new and unknown things which is why I started buying things I've never seen and heard of before. There are countless food markets which offer the most diverse meals and snacks. As I said, I didn't really know what I was eating, but I just LOVED it! The food was incredibly delicious!

One of my favorite food stands was the one where you could combine rice with the most diverse toppings. There were so many choices, it was quite hard to decide. I had rice with different vegetables and super delicious sauces. It was amazing!!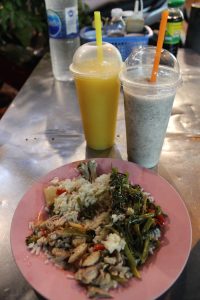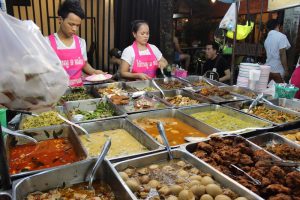 Another favorite of mine was called "Pad Thai": It's a mix of three different kinds of noodles fried with vegetables and egg (it's also possible to have this dish with meat). It sounds simple, but it's super delicious. These were the best fried noodles I've ever had!
Although I really struggled with myself, I also tried a fried scorpion and fried insects. Well, actually it was my good friend Klara who bought it, but I tried it. It's actually not that bad. The scorpion didn't really have a flavor and the insects reminded me of chips or peanuts. Well, I don't need this kind of food every day, but if you're in Bangkok, you should at least try it once. It's really not that bad 🙂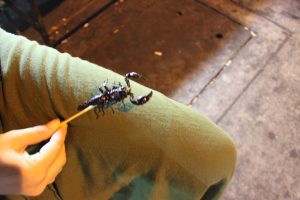 For breakfast I had "Sticky Rice" which is the most delicious thing you can think of. I was so in love with that food, I'd wished I could have sent a huge package of it back to Germany 😀 Sticky Rice is rice with coconut milk which is fried within a banana leave. It's absolutely delicious. So if you're in Bangkok, don't miss it! 
If you eat a lot, you'll get thirsty. So what's better than a freshly made fruit shake?! There are heaps of fruit shake stands in Bangkok and it's not difficult to find them. You'll recognize them as there are thousands of delicious fruits stacked on one table. They have amazing fruits – dragon fruit, coconuts, bananas and so many exotic fruits I've never seen before. In Thailand (and generally in Southeast Asia) it's common to add sweet milk to a fruit shake but in my opinion you don't need it as the fruits are sweet enough. So if you think your shake is too sweet, just say you would like to have it without mild 🙂 The shakes are really really amazing, I stopped counting how much I had while being in Bangkok 😀 
Maybe you ask yourself now where you can find all of these delicious things? The answer is simple: Basically everywhere in Bangkok. There are thousands of driving traders who offer their goods. Personally, I think the best place in Bangkok where you can find most of food stands is close to the famous Koasan Road. It's super touristy as it is THE road for all backpackers but you can find a huge variety of food and snacks there 🙂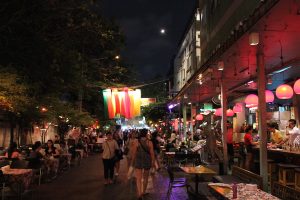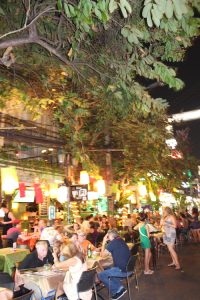 2. Experience THE attractions of Bangkok: King's Palace and Wat Pho
If there are two main attractions in Bangkok which every tourist has to visit, then it's the famous King's Palace with the Wat Phra Kaeo and the temple Wat Pho. Both complexes are absolutely fascinating and a Must Do when in Bangkok. As these two attractions are the hotspots of every tourist, it's really crowded. That's why you should start really early in the morning. Klara and me were one of the first tourists in the morning who visited the King's Palace and it was the best decision ever. It was almost empty, we had enough time to explore everything and to take lots of photos. Two hours later, we left the complex and believe me, it was just insane. I've never seen so many people on one place before. It was almost impossible to choose your own way as there were too many people. So it's definitely worth it to get up early!  Another tip: If you want to visit those attractions, you need to cover your knees and shoulders. Well, and not let's see what's so great about those two sights:  
If you choose the main entrance, you will see the temple Wat Phra Kaeo. It's amazing! The complex is huge and there is so much to explore. One of my highlights were the colorful Yaks "guard" the temple.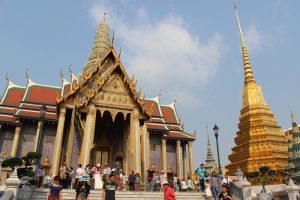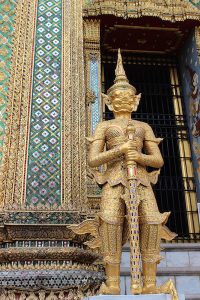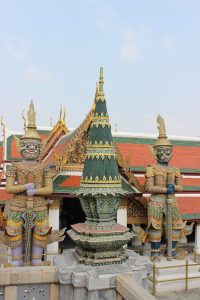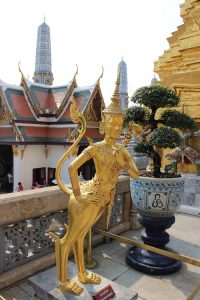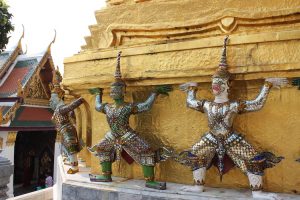 Another special highlight of this temple is the Emerald Buddha which is ornamented with precious robes and gemstones. 
If you walk through the complex, you'll find the King's Palace at the end of the tour. It's an impressive building with amazing ornaments.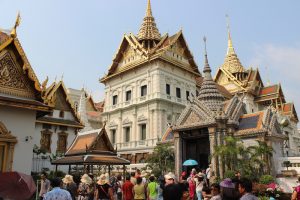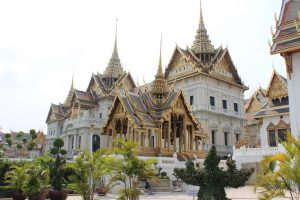 Besides this attraction, there is the temple complex Wat Pho which is really close to the King's Palace. It's my personal favorite as I think it has the most beautiful architecture and ornaments. The main object of this temple is the gold reclining Buddha which has a length of 46 meters! It's absolutely stunning!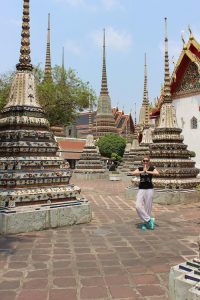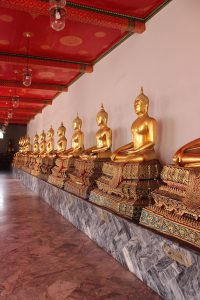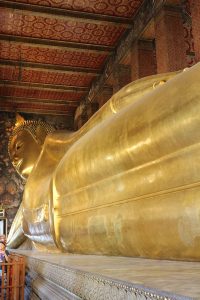 3. Enjoy a moment of peace at the Golden Mount
Bangkok is a fascinating city, but you'll get quite exhausted after a while because of the crowds, the traffic and the chaos. If you need a moment of peace, you should head to the top of Golden Mount. It's a lookout in the middle of Bangkok, but it's really quite there. At the top, you find some benches which are perfect for a break. It's quite cool up there as there is a breeze and there aren't too many people. You can enjoy a nice view over Bangkok while relaxing a little bit. I really loved that place and I would definitely recommend it to everyone who needs a break from Bangkok's busy city life.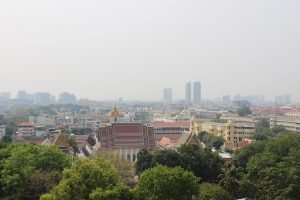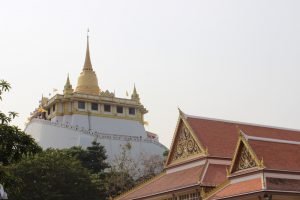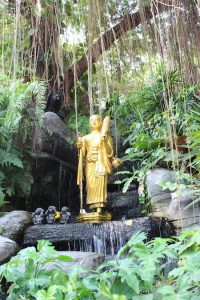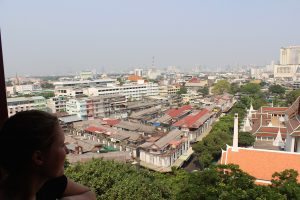 4. Taking a Tuk Tuk through Bangkok 
As I wrote in the beginning, Bangkok's traffic is really crazy and chaotic. That's why it's probably not the best idea to take a Tuk Tuk in Bangkok. Well, that's what I thought first and that's what my travel guide said as well. However, Klara convinced me somehow to try it once and so we did. It was definitely scary in the beginning, but you realize that the Tuk Tuk drivers are used to the traffic which means you shouldn't worry too much. In the end, I really enjoyed it, it was a funny experience and I think it's definitely something you should try when in Bangkok 🙂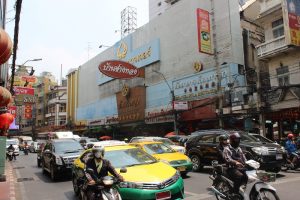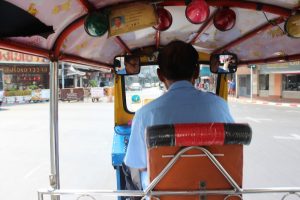 5. Enjoy a cocktail above Bangkok's roofs 
Bangkok isn't only amazing by day, but also at night. An amazing highlight is visiting one of Bangkok's sky bars which offer great drinks and breathtaking views. I've been to the Redsky Bar in the World Center which I really liked. The cocktails are delicious and the view is absolutely mind-blowing. If you have the chance, make sure to be there by dawn as you can watch the sunset. Unfortunately, it's often not a real sunset as it's very foggy, but the atmosphere is still great. For me, the visit of the sky bar was definitely one of the greatest things I did in Bangkok and a perfect ending to an exciting day.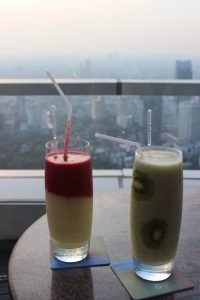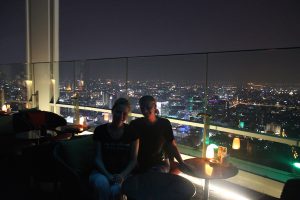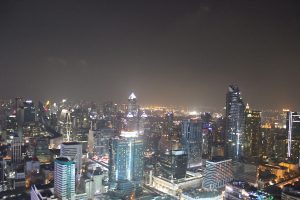 6. Go shopping on a floating market 
Have you ever been shopping on a floating market? No?! Then you should definitely do it in Bangkok. A great floating market is the "Damnoen Saduak" which is located a bit out of Bangkok's city center. There are busses from the main bus station which regularly run to the market. It takes about two hours and the bus drops you off at a jetty from where you can take a little wooden boat to the actual market. The boat owners charge really high prices at the beginning, but you just have to be patient and persistent. A good option is to ask other tourists to share a boat as it gets much cheaper if you're in a group. The boat takes you the the floating market where heaps of traders sell their goods on boats or floating houses.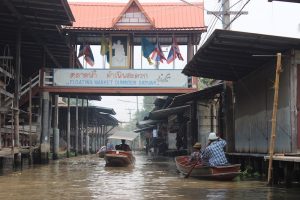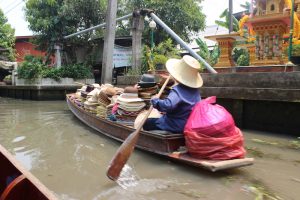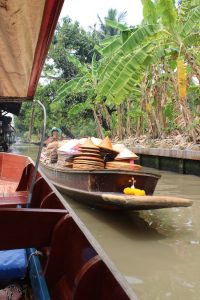 It's really busy there and everyone tries to sell everything to you, but it's definitely a great experience. If you're looking for souvenirs, clothes or other stuff, you can often make a bargain. I especially loved the food which is sold on the boats. It's freshly cooked and really delicious. Even if you don't know what it actually is, just try it 🙂 I didn't regret it.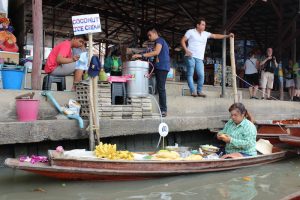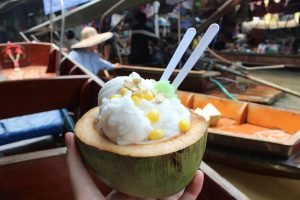 Bangkok is an amazing city with so many different things to see and explore. Although I did have a little culture shock at the beginning, I really enjoyed the three days in this huge metropolis. It's been an unforgettable time with many experiences to remember.
Have you ever been to Bangkok? If yes, did you like it? I'm looking forward to read your opinions 🙂
Anne