New York City – the city that doesn't sleep. Who doesn't know this legendary city from countless TV series or movies? No matter if you think of Sex and the City, Breakfast at Tiffany's or The Devil wears Prada – New York City is often the actual star. Even if you have never been to New York, everyone has an idea of how this city looks like and how it is to stroll along Fifth Avenue or to stand at the Times Square. Me, I had all of these images too and it was one of my biggest dreams to finally visit and experience this city in real life. 
In 2012 I finally got the chance: I spent 5 days in the legendary city. These days were just amazing and really eventful. New York is a spectacular city with so many amazing things to see and explore. Sometimes it's quite difficult to remember everything as well as to realize that all of those things had really happened. This post shows you 5 reasons why you should visit and what kind of experiences you can only make in New York City. 
1. Visiting the Times Square at night is a crazy and unforgettable event
The first thing I did in New York City was to visit the world-famous Times Square. It was late in the evening which is why everything was lit up. As I got to the Times Square, I was overwhelmed. Everything was sparkling and twinkling – I'd never seen something like that before. It was so spectacular that I didn't know where to look first. There were thousands of people but the giant screens outshined everything, even the noises of the crowds. Everything in New York City is XXXL and the best example of it is the Times Square. I'd never seen so many lights, people, screens, artists and shops in one place before. The impressions were just overwhelming!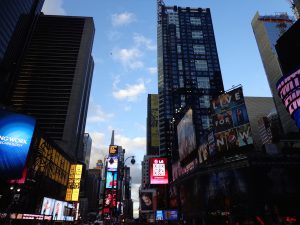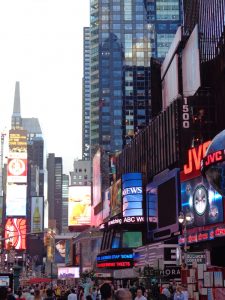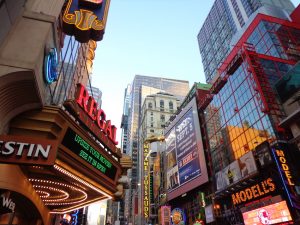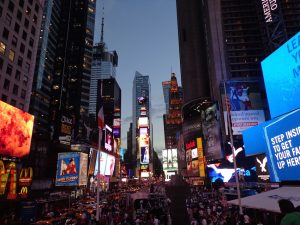 To be at the Times Square at night is a really crazy event, especially because of the crowds. It's almost impossible to go your own way as you get carried by the crowds. It's really crazy to experience that but you shouldn't suffer from claustrophobia 😀
Another highlight is the probably biggest and most lit Mc Donald's which can be found directly on the Times Square. It rather seems to be a theater than a fast food shop: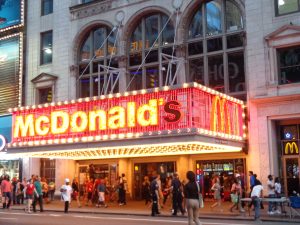 2. In New York City you never know who you'll meet next 
New York City has more than 8 millions inhabitants and some of them are very special and quite obvious. One of those people is the famous "Naked Cowboy":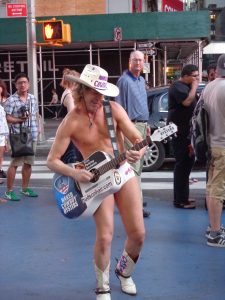 This might seem weird elsewhere but in New York City it's nothing to wonder about. His music is not the best but it's definitely funny to watch. 
Another day I walked along the Broadway and suddenly I noticed a crowd who had gathered around one person. I kept walking and out of the blue Snoop Dog crossed my path: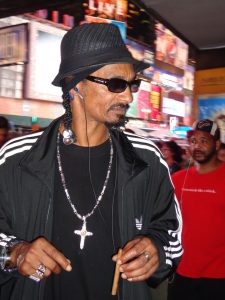 In addition, you shouldn't be surprised if you meet Spiderman, Spongebob or Cinderella – in New York City you really never know who you'll meet next!
3. You rarely have such an amazing view as from the Empire State Building
I've been to many different viewing platforms in this world but there is one view I'll never ever forget: the view from the Empire State Building! From there you have an amazing, mind-blowing view over New York City. From above New York City even seems so much bigger than it actually is (which is hardly possible). You can see everything – the Central Park, Manhattan and even the Statue of Liberty. It's absolutely breathtaking!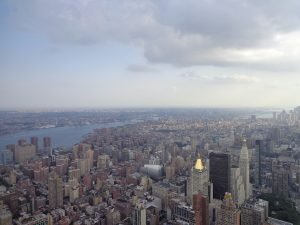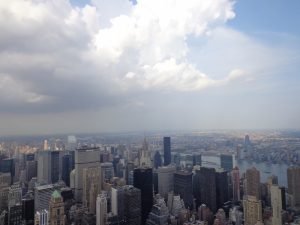 4. New York is a true paradise for fans of art, culture and music
If you love art, architecture, culture and music you will love New York City – it's really a true paradise! No matter if you think of the world-famous MoMA, the Guggenheim or the legendary Broadway – art, culture and music can be found everywhere in New York. I was absolutely amazed by the fact that you find almost all of the world's most famous paintings in this city: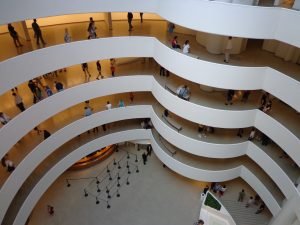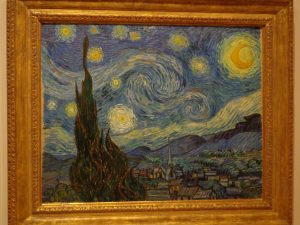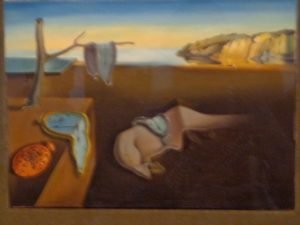 Besides art, New York is world-famous for its musicals. I was very lucky that I had the chance to see my favorite musical on Broadway: Mamma Mia! It was amazing, it was so much joy and laughter. It was definitely a night to remember! So if you love musicals, don't miss visiting the Broadway. The shows are absolutely mind-blowing. By the way: there is a ticket office underneath the red staircase at the Times Square where you often find discounted tickets. It's definitely worth it to line up 🙂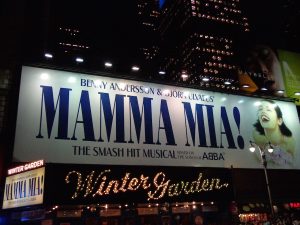 5. The moment when you see the Statue of Liberty for the very first time is unforgettable
One of the biggest highlights – probably even the biggest – of visiting New York City is the boat cruise to the Statue of Liberty. I'll never forget the moment when I spotted the Statue of Liberty for the very first time. It's a truly magical experience. You take a boat from the mainland to Ellis Island and after some minutes you finally get a glimpse of the world-famous statue. If you look back, you can see the stunning skyline of New York City. What a view!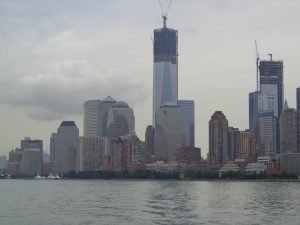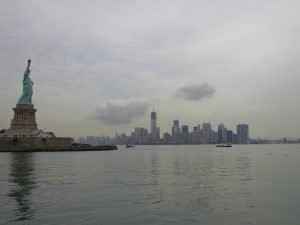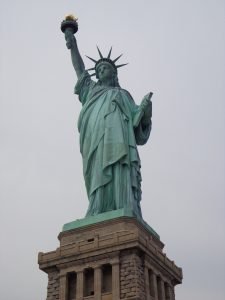 You can only imagine how it must have felt for the people many many years ago who came all the long way to America and then spotted the Statue of Liberty! But even today this very special feeling remains and it's definitely an unforgettable moment. The visit of the Statue of Liberty is an absolute Must Do and one of my favorite things I did in New York City. 
New York City – the city that doesn't sleep. This city is a true legend and one of the most exciting metropoles in the world. There are millions of reasons why you should visit New York, but no matter which of those reasons count for you, it's definitely worth to visit this city. I've rarely experienced so many great things in such a short time and I'm still overwhelmed when I think of my time in New York City. One day I really want to come back – this time in December when it's Christmas time in the Big Apple. Well, who knows, maybe it will work out in the next couple of years 🙂 
What do you link to New York City? Have you ever been there and what did you like the most? I'm happy to read your comments 🙂 
Anne