Yes, winter has its great sides as well and one of them I got to experience today. Juli, her flat mate and me decided spontaneously to visit the Mount Cook National park. It was still on our bucket list and as we had some days off, it was the perfect chance. Our first stop took us to Lake Tekapo. I have been there before but this time we went to the Hot Pools. This is an outdoor spa with a stunning view over the snow covered mountains and the blue lake. I couldn't think of something more relaxing.
The next morning, we continued our way to Mount Cook which is New Zealand's highest mountain. We did a great hike to the Hooker Valley. The day was just perfect for it, blue sky, sunshine and the mountains were sparkling from all the snow. The hike led us to great waterfalls, rivers and small lakes. The whole time you walk between mountain ranges which makes it even better. Reaching the end of the hike, we had the best view over a stunning scenery. There was a lake where ice cubes and small icebergs were floating. The mountains were reflected on the surface of the water … a beautiful view!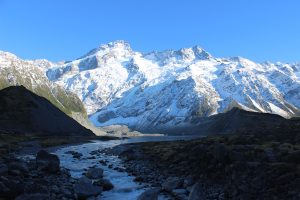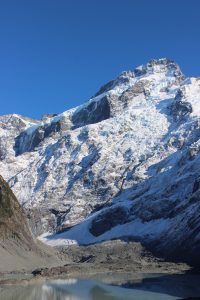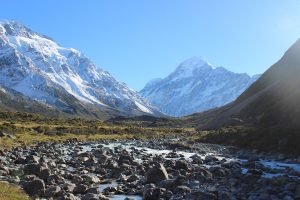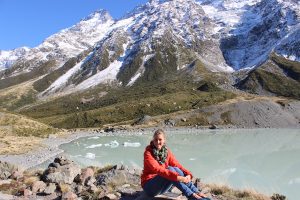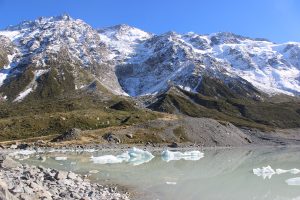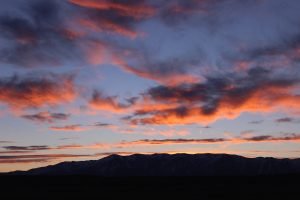 It was a very short trip but the long drive was absolutely worth it. If you are close to the Mount Cook National park you should definitely go there. There are so many walks to explore, I would love to see them all one day.
Tomorrow, Marius, Juli, Karo and me are going on another trip to the Catlins and Queenstown. This time because of a promotional film that Marius' boss wants to shoot with us. I'm really excited. I will keep you updated.
Anne