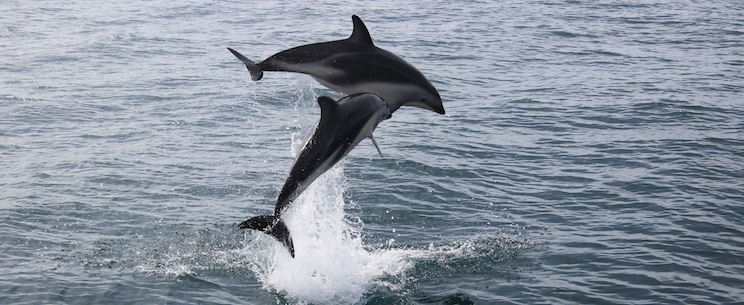 Swimming with wild dolphins
Swimming with dolphins: It's a long-cherished childhood dream of many people. Especially since the movies about the world's most famous dolphin, Flipper, were shot, lots of people have dreamt of experiencing a close encounter with those fascinating animals.
I was one of them. Since being a kid I dreamt of swimming with dolphins. They've always been my favorite animals and I couldn't think of something more magical than a really close encounter with them. However, I decided on many of my travels not to do it – neither in a huge hotel in Dubai nor in a Zoo on Mallorca. Although it was my biggest dream, I hadn't done it. Why? Well, in these and in many more zoos and aquariums, dolphins have to live in captivity. They're often teared cruelly away from their families and their natural habitat. They are trained with dubious methods to do tricks just to entertain the audience. It might be fun for you, but it's definitely not fun for the dolphins. No, I didn't want to support such a cruel industry, no matter how much I wanted to swim with dolphins. If you should consider it once, please don't do it. Dolphins belong to the wild, they are meant to live in the open sea and not in small tanks.
Indeed, there is an option to swim with dolphins without supporting the captivity of dolphins: Swimming with wild dolphins. There are a few places worldwide where you can encounter dolphins in their natural habitat. The animals are absolutely free. They're free to decide whether they want to stay close to you or swim away, whether to play with you or not – it's all up to them.
One of those places is Kaikoura in New Zealand. The Dolphin Encounter Kaikoura offers the chance to swim with wild Dusky dolphins. The group of people is very small which makes it an individual and unique experience. This day where my biggest childhood dream finally came true was absolutely magical and definitely one of the best things I've ever experienced on my travels.
A boat took us to the coastal waters of Kaikoura where hundreds of Dusky dolphins live all year round. After a short ride, I spotted the first dolphins. They were jumping around, doing one flip after another. It was amazing! I couldn't believe how playful they are and what kind of tricks they can do – without human training.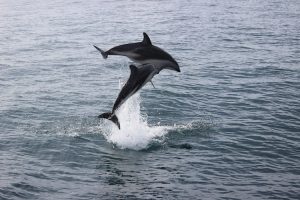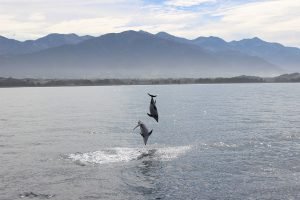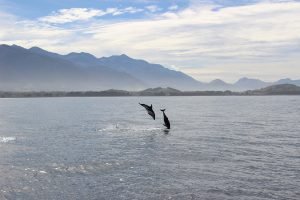 I could have watched these fantastic animals for hours. How they play and interact with each other is truly amazing!
The boat stopped after a while and just in that moment we were encircled by countless Dusky dolphins. It seemed like they were in a really playful mood. I was very excited as I finally entered the water. I only had to swim a few meters until several fins popped out of the water. As I started to snorkel, I could see many more of these elegant animals. It was amazing to be so close to them. They weren't shy at all but really playful. I watched them for ages… how they played, interacted and talked to each other – I didn't know how many different sounds they can make. It was fantastic! I was also surprised that there was no need to swim a lot as the dolphins encircled me all the time. Once, I started to spin around myself and the dolphins did the same. It seemed like it was a competition to them and although I had no chance to win, it was so much fun! I couldn't believe how playful, curious and attentive the dolphins were. It was pure magic!
I tried to shoot a short underwater video which turned out not too bad:
This day on which my childhood dream finally came true was absolutely fantastic. I'm so grateful for this unforgettable experience. 
So if you're dreaming of swimming with dolphins, wait until you come to a place where you can do this with wild and free dolphins. There are a few of those places in the world and it's definitely worth the wait. Encountering dolphins in their natural habitat is just wonderful and beyond compare with anything else.
Have you ever had the chance to swim with wild dolphins? What kind of experiences did you make? I'm looking forward to read your comments.
Anne